Thanks to everyone that came to Beverly Skatepark yesterday for the Know The Ledge contest. The Weather looked tike it was going to be an issue but the rain stopped early and the park dried up quickly. A pretty elite group of 20 skaters was split into 5 groups of 4 and each group got 5 minutes to skate the bench. 5 finalist were then chosen (1 from each group). The judges did not have an easy job but the 5 finalists ended up being Dave Begonis, Dana Ericson, John Desimas, Zeb Weisman, and John Wisdom.
The final group was given 15 minutes to to session the bench and again didn't make it easy on the judges but in the end it ended up like this.
1st - Zeb Weisman $100.00, iPod Nano (loaded with the playlist from the contest) , DC Shoes, and RAW shirt
2nd - Dana Ericson $80.00, Shull Candy Headphones, and RAW shirt
3rd - John Wisdom $60.00, and RAW shirt
After the bench contest was over it was time for the High Ollie contest.
In the least surprising news of the day Pat Hickey won the high ollie after taking the bar up to 38" and went home with a pair of DC's and some cash.
We also did a best trick over the bleachers off of the bank ramp. Lance ended up taking that with a nollie backside flip. Other standouts were Dave Begonis who did nollie back bigspin, and Zeb with a switch kickflip.
Then we did a best trick on the barrier quarterpipe and the GB crew came through with Billy D. winning with a blunt kickflip to fakie and Ryan Shea getting second for his overall destruction and as always "crazy" Chris Mac put on a show.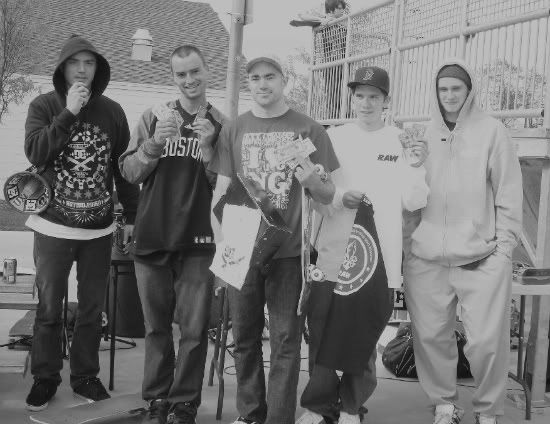 Left to right: The host Jefferson Pang with the winners 1st Zeb, High Ollie Pat Hickey, 3rd John Wisdom, 2nd Dana.
Pat Hickey warning up with a Nose Blunt.
Check back soon for more pictures and footage from the contest.
Special thanks to Jefferson Pang at DC for driving all the way up from NYC to help out with the contest! Kevin, Ray, Steve and the RAW crew for coming up and helping out, Skip at Scion for hooking us up with some prizes, , Chris, Julie, Mac, Tommy J, Ryan and Evan Oppedisano, Ryan Shea, all the kids who helped us clean up.
After the contest we got down at Chris's house with some burgers and dogs the skated over to the after-after party.
"Garbage Day"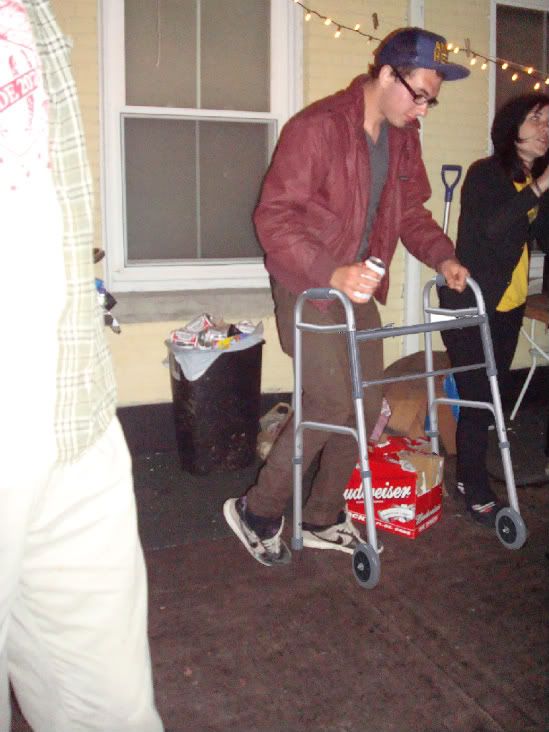 Mike Fork is getting to old for this.
At the after-after party I buried Billy D's skateboard (Filho is lucky I couldn't find his) SORRY BILLY!
There's a skateboard under here.
I tried to frame Mikey for it.
Chris Mac and Billy D. These guys rule!