Vans Mini Cup
at
Loon
.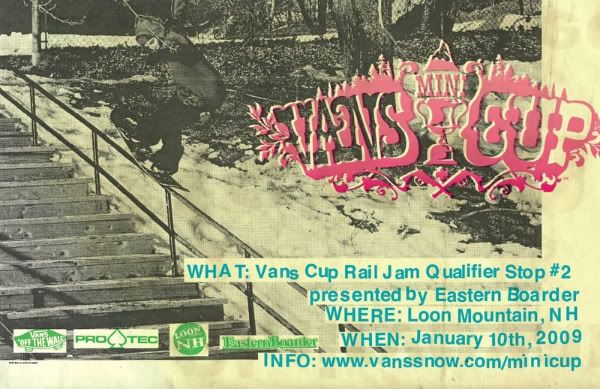 The Vans Mini Cup, a new series of three rail jams going down this winter. The top rider from each Mini Cup stop will qualify for the Invitational Rail Jam at the 2009 Vans Cup at Mammoth, widely regarded as the West Coast's most important professional snowboarding competition.
The first Mini Cup stop, presented by Satellite Boardshop, will take place at Winter Park Resort in Colorado on December 14, 2008, followed by rail jams at New Hampshire's Loon Mountain presented by Eastern Boarder on January 10 and California's Bear Mountain presented by Leroys Boardshop and One Way Boardshop on February 14.
The format features an open jam session, narrowing down to a 10-man final judged by Vans Snow team riders.
The winner from each stop will score an all-expense-paid trip to the Vans Cup at Mammoth and slot in the event's invite-only Friday night rail jam.
A special thanks to Satellite Boardshop, Eastern Boarder, Leroys Boardshop, One Way Boardshop, Winter Park Resort, Loon Mountain and Bear Mountain for their support!