The other day I posted a link to the
4 Star Mapquest Tour video
and mentioned that it was filmed and edited by Roger Bagley. In that post I also mentioned that Roger is from the Boston area and used to work at Something Else Skateshop right here in Danvers. He was nice enough to answer a few questions for us via e-mail to fill us in on what he's up to now and some of the things that got him from the north shore into the halls of Crailtap.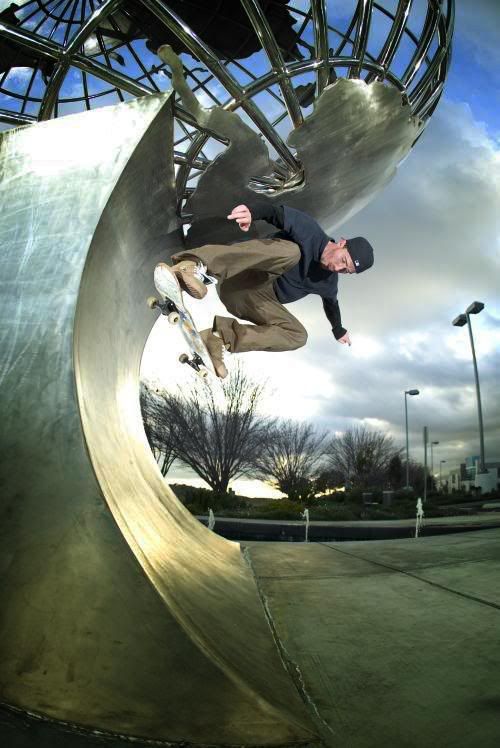 Roger Backside Ollie : Luna Image©
E.B. -You grew up in the Boston area and had a few jobs locally in the skate scene including working at Something Else right here in Danvers. You also worked at Positive, and even at Maximus.
I know your now filming and editing stuff for the Crailtap guys. Do you have an official job title over there and are there any projects you're working on with those guys that you could talk about?
Roger-No official job title...Just another dude w/ a camera, whom occasional edits.
We're currently trying to capture the Girl/Chocolate team riders performing some hot moves on the streets for the upcoming Chocolate video...and trying to provide web content for Crailtap.com on a semi-daily basis...Mini Top 5's are so hot right now!
E.B. - What are a couple other jobs within skateboarding that led you to where you're at now?
Roger - Was the TM for Converse for a lil' bit back when the team was Chany, Felix, Kenny, Supa and Jerry Fowler...Many good memories with that crew.
After Converse I tried to get a small wheel company rolling with this guy Courtney...it was called "Versatile Urethane"...Ryan Gallant, PJ Ladd and Brian Dale were the team at the time...But, unfortunately things just fell apart...and I ended up helping to shoot on the "One Step Beyond" video for Adio...after the video was done I ended up shooting for Adio till may 2008...
During the time I was working for Adio, I was shooting w/ Bam Margera a lot and one day he asked me if I'd be down to help shoot some stuff of his crazy life for Mtv and that lead me to working as a camera operator on 5 seasons of "Viva La Bam" and then his wedding show "Unholy Union". That was probably the best experience of my life, mainly because the cast and crew of the show was like one giant dysfunctional family and I loved it. April and Phil are like my second parents.
After Adio let me go due to tough economic times...I spent the past year doing random video stuff for my friends company in Denver called "Red Robot"...actually, I still shoot stuff with them...Best dudes ever.
And now I'm shooting for Girl Dist. and I'm lovin' it.
Rorer & Joey Brezinski
E.B. - What was your first camera setup?
Roger - My first camera was a sony trv900. great lil' cam, wish I still had it.
E.B. - What is your current camera setup?
Roger - 2 panasonic hvx200 with 2 - 32GB P2 cards and 2 - 16GB P2 cards...card space is the key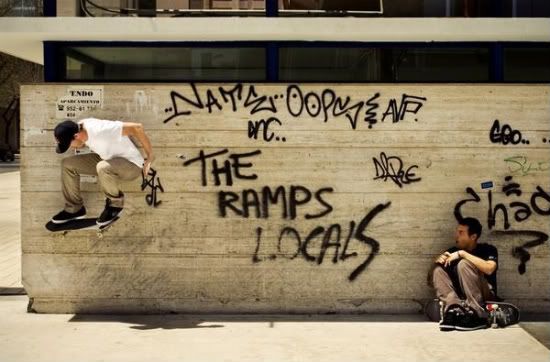 Wallride Nollie Out
E.B. - It seems like so many blogs and web sites are posting short clips filmed on point and shoot cameras. Do you think that's sort of a slap in the face to people trying to put out quality videos or do you think that just makes the good videos just stand out even more?
Roger - I actually love all the web content out there as long as the content is good.
People are still gonna always put out quailty videos that'll never fade away...and when they do people will take notice to it.
E.B. - As a skateboarder it's natural to pick up a camera and get into videography through skating.
Now that you've become an established skate videographer do you think you'll pursue videography beyond skateboarding?
Maybe filming weddings with a death lens or something?
Roger- Been there, done that.
And Switch
E.B. - It seems like Ben Colen catches a lot of heat for being a Celtics and Red Sox fan. Do you avoid getting caught up in that by staying out of the sports talk, or is Ben just an easier target?
Roger - Ben loves his sports...and he sometimes is an easy target...myself, I couldn't tell you jack shit about any of it...
E.B. - Well Roger it seems like things are going well for you. Thanks so much taking the time to do this. Any shout outs or last minute words of wisdom for the kids out there?
Roger - Don't pick up a video camera...the pay is crap and it'll cripple your skating...Seriously, pick up a photo camera, if you want to make the big bucks...
"the pay is crap"