JUSTIN BRACE IS A FRIEND, EMPLOYEE, TEAM RIDER OF EASTERN BOARDER WHO WAS DIAGNOSED WITH ALS. WE DO THIS EVENT EVERY YEAR TO RAISE MONEY FOR HIM AND ALS RESEARCH. MOST IMPORTANTLY WE DO THIS JUST TO GET TOGETHER AND RIDE OR SKATE WITH ALL OUR FRIENDS AND SUPPORT JUSTIN.
THERE WILL BE BRACE JAM T-SHIRTS AVAILABLE SO BRING A FEW EXTRA BUCKS.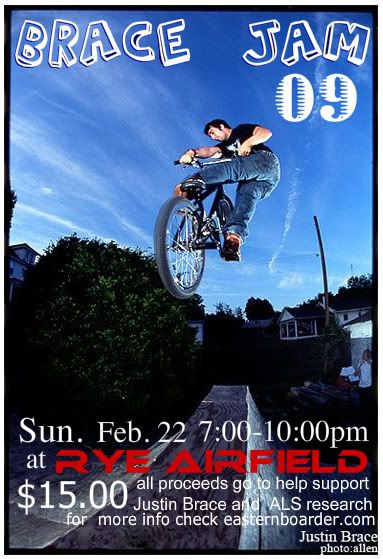 WE WILL BE DOING DIFFERENT BEST TRICK CONTEST FOR BIKE AND SKATE.
WITH ALLTHE NEW STUFF AT RYE, THIS YEARS BRACE JAM SHOULD BE THE BEST YET!