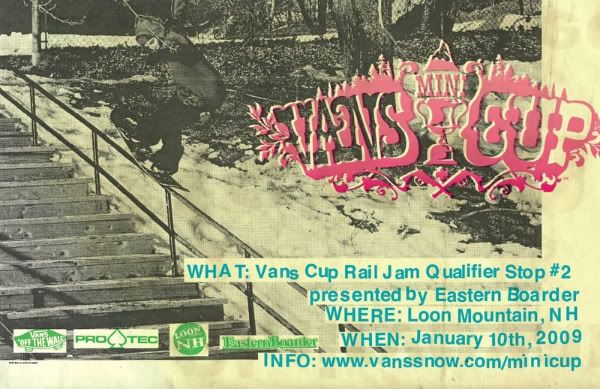 I was at Loon today and the
LMP
guys were hard at work. It isn't easy always coming up with unique set ups for events. Here's a look at what the guys have set up for tomorrows
Vans Mini Cup
. Mother Nature has been helping them out also adding some natural snow to the already great conditions. To top things off the half pipe is looking top notch and is set to open tomorrow..
To get the rundown on all the other things going on this busy weekend check the
EB MEGABLOG
.
Last but not least, congratulations to all the homies killing it at the
Dew Tour!
Dew Tour pre-lims
Men's:
1. Torstein Horgmo 90.33
2.
Sam Hulbert 81.83 - EBTeam Rider
3. Charles Reid 81.33
4. Andreas Wiig 79.50
5. Eric Willett 78.50
6.
Brandon Reis 78.33 - EBTeam Rider
7.
Scotty Lago 75.33 - NH Ripper
8. Madison Ellsworth 70.00
9. Kevin Pearce 68.67
10.
Yale Cousino 67.67 - EBTeam Rider
The dew tour is some serious business, these aren't your local rail jams. Just look at the list of heavy hitters. So stoked for these guys, watch the dew tour somewhere on TV, or get off you ass and GO. It's at Mt Snow.